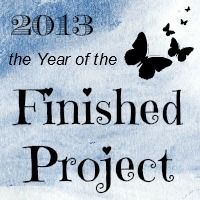 Lynne over at
Never Too Hot to Stitch!
is hosting a
monthly linky party
on the first Thursday of every month. The purpose is to outline what you want to focus on that month, and share what you completed the previous month, in the hopes that 2013 will reduce the number of UFOs floating around the house. Considering that my UFOs and WIPs are growing exponentially, I feel the need to join in!
This month, I am only choosing 5 projects to focus on.
1. Complete Easy Street quilt top
I have all the parts made for the Bonnie-size version, but my daughter likes it so I am upsizing it to King Size, with a slight modification to the colour order. Where you see her lime green, I am going to be using a medium purple. The other colour orders are changed as well, and there won't be any aqua after all, but she is thrilled with the sample block I made.
So far, I have done all the calculations to increase the quilt to king-size. I'm waiting for tomorrow or Saturday for
Hamel's Super Stitcher Weekend
(first weekend of every month) so I can get the medium purples at a 20% discount. It should be finished by the end of the month.
Due to the size, this one will get sent out to be long-arm quilted. Hopefully, I'll be able to do that in March.
This was the first quilt-a-long I participated in (and Melissa's first one that she hosted!). This is a lap quilt just for me.
It is partly quilted with a chocolate minkee backing. I put it aside to concentrate on Christmas presents. I should be able to finish this in just a weekend, including binding.
3. Sarah's Dragonfly Table Runner

All that needs to be done on this one is finish the binding. I was short about 12" so after a quick trip I was able to find the right batik on the third bolt I pulled! That was a month ago, so today I finished off the strip, attached the binding and it is ready for handsewing. This will be done by tomorrow night and taken to my daughter's. We bought the fabric together almost a year and a half ago as a project to teach her how to quilt. Needless to say, the baby kept her too busy and I did most of the work. We`ll find another project to do this spring.
4. Gramma quilt
I bought this kit about 3 years ago, and I have no idea why I put it aside. I finally cut it out this summer, but now it is time to finish it as I am changing the beds in the grandkids` room and need a twin size quilt. I want the top finished this month, and will quilt it in February.
5. Just Takes Two Pillow Cover
When I started doing my
Just Takes Two
quilt blocks, I thought I might use aqua and white instead of red. I found it very bland and assembled the first six blocks to make a pillow cover. I have done the basic stitch-in-the-ditch quilting, but want to fill in the white space with some FMQ, which I want to practice this year. It will coordinate with my lap quilt really nice, which will also match my sofa!
So that is the plan for January! I really want to take control of my projects, and this may be a great way to do it. In addition to outlining my plan on the first Thursday of each month, I`m also going to participate in
Leah Day`s UFO Sundays
and dedicate Sunday afternoons to catching up!
Thanks, Lynne for coming up with The Year of the Finished Project.