Kelsey over at
Kelsey Sews
is starting a work-along group called The 100 Day Hustle. Did you know there are only 100 days left in 2012? Yikes! Since I work best with challenges, lists, deadlines and accountability, I'm linking up to this one as well as UFO Sunday.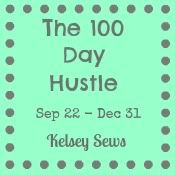 My first priority is to get all the Christmas sewing out of the way, so here is my list. I had a total of 21, but now have 19 projects to finish in 93 days, that's one project every 4.9 days!
Projects 1-7: 7 pillowcases (finished 2 today!)
A baby one and a regular one for two little grand-nephews - these ones had to be done right away as they are going to Alberta at the end of the month (saves on shipping!).
4 more kitted up - one for Zoey, one for Alex and two the same for two more grand-nephews. Still need to find something for the 5th, the grandchild of a friend.
8-14: I kitted 6 Lazy Girl Wallets for my daughters and various friends (and one for me!)
As I've been decluttering, I found some more things that can make great Christmas gifts.
15: An apron for Zoey who is getting a little kitchen set from Santa.
16-17: More panels - I had bought three of these and the coordinating fabric about 5 years ago. I'll make two lap quilts up for my daughters (one who said their husbands would also like some so I guess I better keep digging!)
18: And another one: a Debbie Mumm vest that dates back about 10 years. I'll make this one for my sister as she likes to wear the vests at Christmas time.
19-20: And two more ( I can't believe I keep finding these things): I'm not sure if I'll make wallhangings out of these or combine them into a lap quilt. For some reason, the picture won't turn.
21: I also have to finish Zoey's big bed quilt and matching curtains - I got the rest of borders cut out today.
And I have two bonus projects for myself, I'd like to get this tree skirt quilted.
And finish this quilt!
How are you going to finish the year out?