One of my favourite bloggers, Judy at Patchwork Times, is hosting a
UFO parade
today! What is a UFO - why, an UnFinished Object, of course! And being the queen of UFOs, I must join! So far, I have counted, drumroll please, 48 UFOs (sewing projects only). I know I'm still missing a few, but seriously..48???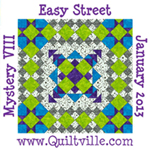 (No. 1 on my list to finish - I've put it aside for almost 3 months now)
Blogging has been both the source of my success starting and finishing projects (about 25 last year alone, mostly new ones) but has also been my downfall in starting more than I can handle (added about 20 to the UFO list, while only completing about 7-8).
(No. 2 on my list to finish - I'm only making it a table topper size)
Last year, I tried joining a couple of UFO finishing challenges which helped. I even created a separate page to track my progress. It needs some updating, but you can find my list by clicking on this link
Terri's UFOs
or on the second tab above.
(No. 3 - this cute little cape and 3 summer dresses for Zoey. The cape has been cut out since last November, but the dresses got cut out in March, so do they really count as a UFO? In my books, yes, because they have been put aside like so many others!)
If you haven't already, come join the parade. And every Wednesday, Judy is going to have a UFO Progess linky party so we can share our successes - perfect for me because I get most of my work done on a Sunday until late in the evening.)